PT World Innovative Telecommunication (OPPO) adalah produsen elektronik yang berbasis di Dongguan, Guangdong, China. Produk utamanya meliputi pemutar MP3, pemutar media portabel, TV LCD, eBook, DVD / Blu-ray, dan telepon seluler. Didirikan pada tahun 2004, perusahaan telah mendaftarkan nama merek Oppo di dunia. Oppo terkenal dengan seri pertamanya, Oppo Find 5. Menurut laporan IDC, OPPO menduduki peringkat 4 merek smartphone di seluruh dunia pada tahun 2017, dan merupakan merek smartphone nomor satu di China pada tahun 2016. Berikut ini adalah Lowongan Kerja PT World Innovative Telecommunication (OPPO).
Lowongan Kerja PT World Innovative Telecommunication (OPPO)
Salam sukses! Semoga diberi keberkahan untuk kita. Pada hari ini admin akan menyampaikan info lowongan kerja buat teman-teman yang sedang mencari pekerjaan.
Mungkin informasi yang admin tulis pada hari ini bisa menjadi alternatif, Karena Saat ini PT World Innovative Telecommunication (OPPO) sedang membuka lowongan kerja dengan posisi dan kualifikasi sebagai berikut:
1. Admin Staff (Mandarin Speaker)
Requirements :
Fresh Graduate are welcome to apply
Mandarin is a must (fluent in Speaking, Reading, Writing)
2. Graphic Designer Staff
Job Description :
Align visual for Social Media
Support design for event and other needs, orporate activities
Making a key visual & other promotional materials
Promotional material includes : poster, banner, etc
Requirement :
Candidate must possess at least Bachelor's Degree in Marketing Communication, Journalism, Management, or related field
Master design app : Adobe Photoshop, Illustrator, Indesign
At least 2 Year(s) of working experience in the related field is required for this position
3. Public Relation Staff
Job Description :
Track record of securing press and media coverage
Monitor and analyze the brand and company's perception in the media and social media
Manage and implement public relations activities, such as press releases, PR stories, advertorials, media monitoring, and press conferences
Develop short-term and long-term strategies and lead the implementation of public relations in Indonesia
Requirements :
Minimum 3 year of experience in PR / Branding / Marketing Communication
Willing to work with tight schedules and meet deadlines
Excellent spoken and written communication skills in Bahasa and English
Excellent communication and interpersonal skills
4. Videographer
Job Description :
Developing interactive, creative ideas and final execution with in-house team/vendor
Work includes, but is not limited to intensive motion graphics/video production, campaign creation
Planning a creative contents, photoshoot and videoshoot for a certain product line includes arranging production vendor/in-house team, manage timeline, production budget & production needs
Manage the creation of storyboards, design, references
Maintain brand visual guideline & tonality
Execute video content end-to-end (planning to execution) for all products of OPPO and it's campaign
Edit Video for promotional video (OPPO Brand) and internal event
Taking video for promotion
Requirements :
Bachelor degree in any field (majoring Design/Advertising is a plus)
Required language : English (Speaking, Reading, Writing) is a MUST
Understand design language
Ability to work under tight deadlines and understanding all range of products in the company
Be able to use video editing/imaging application (Adobe Premiere/After Effects/Photoshop)
Master in taking video for premium brand
Advanced ability in operating camera, production tools and editing end-to-end
Exceptional communication, writing skills and public speaking
Thrives in a fast-paced, team-centric environment & is a self-starter
5. Trainer/Tutor
Job Description :
Training new and existing store employees, store managers, cashier, promotor
Provide product knowledge and service standard training
Carry out Learning and Development Activities
Special OPPO Store training content development for store employees
Requirements :
Candidate must possess at least Bachelor's Degree in any field
At least 3 years of working experience in Training, from smartphone industry, consumer electronics, telco, or any retail industries
Good skill at Communication both written and spoken
Fluency in English, Mandarin is a plus
Excellent communications skills
Possess high integrity, good analytical thinking, able to work both individually and teamwork, self driven and results oriented
Enjoy tackling complex business situations and have creative problem solving skills
6. GTM Staff
Job Description :
The successful candidate should have passion in IT products to drive the GTM (Go-to-Market) locally for the brand and will be under OPPO
Plan, develop and drive the Go-to-Market for the brand/products to further optimize/strengthen the overall GTM capabilities
Assist on smartphone products' Go-To-Market activities
Developing creative Go-To-Market Plans and initiatives with internal department and external partners
Understand consumer electronic products well and align with
Conduct Market Analysis and monitoring competitor's strategies of advertising and promotions
Design product portfolio to increase revenue and set price/SOP plan for respective products/partners
Product launch planning, coordinate with Marketing, Sales and After Sales Team to ensure every successful product launch
Account Strategy, Account Planning and Product Life Cycle Management
Requirements :
Candidate must possess at least a Degree in Business/ Marketing/or equivalent with more than 2 years of relevant experience in the industry
Strong project management skills; including managing multiple projects simultaneously
Always a problem solver and with the ability to work in a fast-paced environment whilst embracing new challenges
Strong analytical and data modelling skills
Developed Microsoft Office skills (Excel, PowerPoint, etc.)
Good interpersonal and communication skills
Good team player who can work independently
Proactive, self-driven and result oriented
7. HRBP (Mandarin Speaker)
Job Description :
Identify areas of improvement, develop improvement programmed and monitor the implementation to increase process efficiency, cost effectiveness, or increase productivity
Administer and monitor talent management process in each function to ensure continuous integrated people development process from recruitment, develop, train and retain employees in order to strengthen organization capability consolidate HR strategies with company's business strategy
Requirements :
Excellent Communication Skill
Strong analytical thinking and data-driven
Fluent in Bahasa, English, Mandarin is a must
8. Mandarin Staff
Requirements :
Requires portofolio/link to previous jobs for attachements
9. Marketing Event
Requirements :
Bachelor's degree in communications or any relevant fields
At least 2-5 year(s) of working experience in the related field is required for this position
Excellent communications, interpersonal, and customer service skills
Strong organization skills & attention to detail
Ability to work well under pressure & multitask
Fluent in English
Willing to work at Pluit, North Jakarta
Jadwal Job Fair :
Tanggal : 3 Juni 2023
Waktu : 09.00 – 17.00 WIB
Kode Pakaian : Pakaian Bisnis
Lokasi : Auditorium Universitas Al Azhar (lt. 3)

Jl. Sisingamangaraja, RT.2/RW.1, Selong, Kec. Kby. Baru, Kota Jakarta Selatan, Daerah Khusus Ibukota Jakarta 12110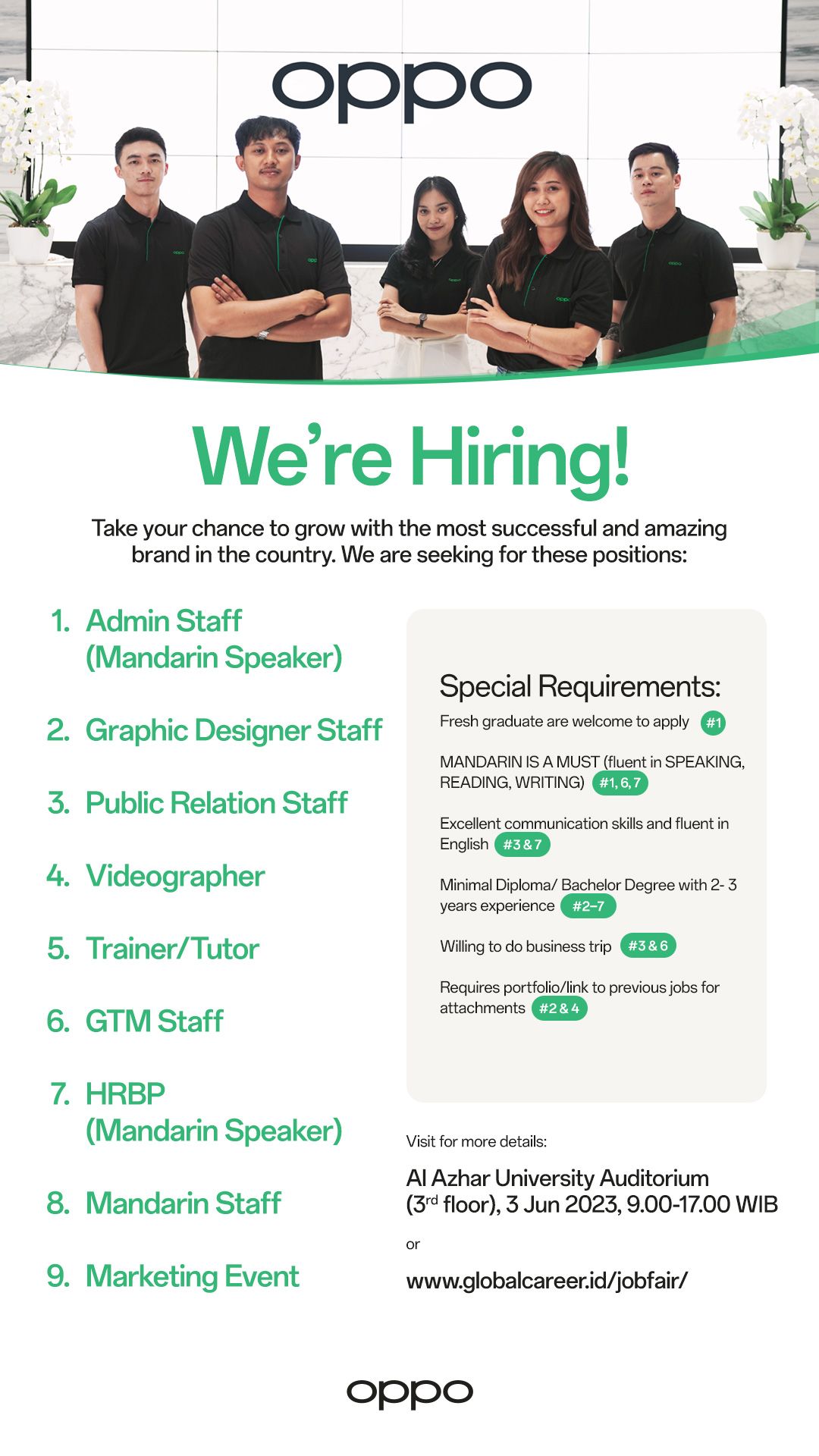 Cara Melamar Pekerjaan di PT World Innovative Telecommunication (OPPO)
Jika tertarik dan memenuhi persyaratan lowongan ini, Silahkan daftar secara online melalui link diabawah ini :
Jangan Lupa SHARE Informasi Lowongan Kerja Ini kepada semua Teman, Kawan, Kerabat sampai saudara kalian yang lagi membutuhkan pekerjaan pada tombol Share dibawah ini.
Perhatian!!

Segala proses recruitment diseluruh cabang PT World Innovative Telecommunication (OPPO) tidak membebankan maupun memungut biaya dalam bentuk apapun pada proses penerimaan karyawan baru.

Jika ada kandidat yang diminta untuk membayar sejumlah uang dalam proses recruitment, dapat dipastikan perihal tersebut merupakan penipuan dan kami tidak bertanggung jawab atas perihal tersebut!